Accounting & Finance
Our end-to-end Accounting and Finance capabilities will help you streamline and standardize your A&F processes and procedures.
Accounting Services

Purchasing

Accounts Payable Reconciliation

Correspond with vendors, suppliers & service providers
Experienced Optimum accountants will help you handle your obligations with suppliers, service providers, creditors, and even your simplest utility bills. We will assist you so you can maintain your credibility as a company. A good credit standing will open more doors to business opportunities.
Our A/P service includes purchase order processing, counter-checking of documents, monitoring of aging payables, facilitation of payment, and reconciliation of payables. An efficient AP Team reflects a trustworthy and credible company.

Sales Order Processing

Customer Invoicing / Billing

Accounts Receivable Management

Payment Reminders & Collections
Optimum provides services that help you keep track of your company's revenue cycle, from sales order processing, invoicing, receivables monitoring, payment reminders and collections. We will provide you with a systematic approach to help you manage your receivables and make sure all transactions are recorded properly. Allow us to be your "Accounts Receivables Department" and free yourself from the pains of chasing problematic accounts.
General Ledger

Consolidations

Inter-company/Inter-branch Reconciliations

Preparation of Financial Statement
Our competent staff will handle and update daily transactions so that you can make a timely business decision. We will help you manage your growth by helping you maintain your General Ledger Accounts. You will also have an easy access to your accounts payable, receivable, book and back reconciliations.
Our company will handle your entire bookkeeping function including Fixed Asset Management, Project Job Accounting, Accounts Analysis, Reconciliation and Financial Statement Preparation. All these are necessary to keep you well informed about your business and keep you organized for any tax-related reviews, audits and other legal purposes.
Inventory tracking and reconciliation

Shipments monitoring (receipts and sales)
Integrity of records is essential. Every product/item accounted for contributes to the profit of the company. Optimum offers this service to ensure a well-monitored inventory system.
Optimum will handle the payroll of your staff by assigning a dedicated payroll master.
Computation of payroll twice every month at the option of the client (15th & 30th or 10th & 25th), this includes:
Computation and deduction from gross earnings of appropriate income taxes, employee contributions
Deduction of other company-authorized payroll deductions such as company loans
Preparation of bank advise and payment of salaries by crediting (by the bank) to employees' individual bank accounts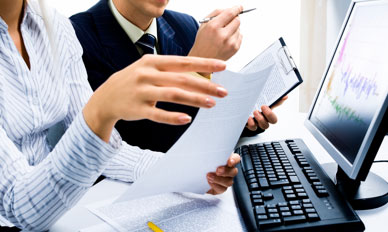 Time and Attendance

Payroll preparation

Payslip preparation

Bank Advise
The service includes:
Generate and distribute payslip every pay period
Attendance and leave credits monitoring
Preparation of Monthly/Quarterly Collection Reports
Preparation of Monthly/Quarterly Loan Remittance
Liaise in paying government contributions and loans to agency concerned
Submission of monthly report (Withholding Tax on Compensation) and Annual Report to the tax bureau.
Preparation of Certificate of Employee's Contribution and Certificate of Employment (COE), certifications of contributions to government entities and loan repayments to the same, if requested.
Preparation of Certificate of Compensation Payment / Tax Withheld.
Computation of final pay of retiring, resigning, or separated employees accounts
The Optimum Solution
Our team of accountants is knowledgeable in US GAAP. We have the ability to hire professionals who are familiar with specific accounting software.
This is how Accounting Outsourcing services would work for you.
1. YOU SEND
After you have gathered all relevant documents, you can send it over to us through any method MOST CONVENIENT to you - Scan & Upload or Email.
2. WE RECORD
Your Optimum offshore team will review and process each document sent. We will take appropriate action for each document and keep your records up-to-date. We will organize, store and protect all documents and financial information you provide.
3. WE MANAGE & REPORT
Our senior and CPA-level staff will submit to you the corresponding transactional and management reports with promptness and accuracy. We will customize reports according to your specifications.
Communications are done mostly through the internet, both data and voice. We will work according to your instructions. International voice communications are made through VoIP. Based on client's request, we can connect our Client's HQ Server with Client's Philippine Server using a Virtual Private Network (VPN). We will handle most, if not all, of your accounting functions and the difference would only be that we will operate remotely.
1. Gathering of Documents: Client
You will gather all daily documents and submit the same to your IT department for imaging and transmission.
2. Imaging and Transmission Process : Client
Your IT staff tags the documents and assign bar codes as reference and process the documents using your imaging software. These imaged documents are stored in your database and copies will be transmitted to your Optimum Accounting Team in the Philippines for processing and recording.
3. Encoding and Recording of Transactions: Optimum ( Philippines )
Your Optimum Team receives the encrypted documents and tags the same before encoding the transactions into your accounting software. Specific staff can also be given access to your database to retrieve imaged invoices and documents for processing.
4. Reconciliation and Verification of Accounts: Optimum ( Philippines )
Your Optimum team leader or supervisor will check the correctness and completeness of all your recorded transactions. And ensure that book and bank transactions are properly reconciled.
5. Analysis and Report Generation: Optimum ( Philippines )
Your Optimum team will produce reports, you require, with comments and recommendations on the analysis made on accounts and financial statements.
Structured Review Process
A daily, weekly, monthly and quarterly review system is recommended to ensure that correct information is consistently provided to the client. Over time, the frequency can be minimized.
Strategic Business Reviews
We recommend that your senior management and Optimum communicate on a regular basis to discuss areas in which Optimum may be able to add additional benefit. This will provide an opportunity for sharing of best practices, industry trends and brainstorming of ideas to improve your business.